Verifone Vx520 Terminal
Integrated Countertop payment terminal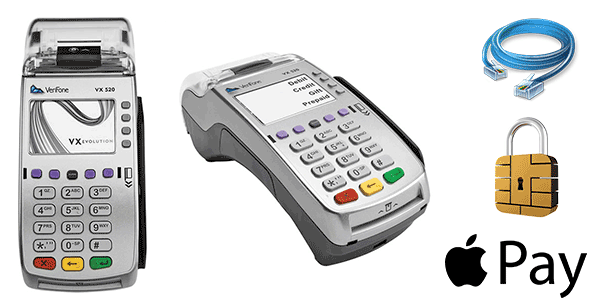 Robust Performance
The Verifone VX520 is a reliable, rugged, countertop credit card processing device that's built to last. It handles encryption, decryption and processing at lightning speeds thanks to its powerful processor and expandable memory. Integrated NFC capabilities support alternative payments, such as ApplePay®, AndroidPay® or SamsungPay® and also supports value-added applications such as loyalty or gift card acceptance.
Unparalleled Features
Offering EMV Chip & PIN, MagStripe & Contactless payment, the Verifone Vx520 has all the features you need. It is designed for easy use and includes a backlit screen and keypad that makes it easy to read.
Specifications
| | | |
| --- | --- | --- |
| Processor | 400 MHz | ARM11 32-bit RISC processor | |
| Memory | 160MB (128MB Flash, 32MB SDRAM) | |
| Connectivity | Dial | Ethernet | |
| Printer | 24 lps | Standard: 49mm paper roll | Contactless: 40mm paper roll | |
| Card Reader | Triple track MSR | |
| Contactless | ISO18092 | supports major NFC/contactless schemes | |
| Peripheral Ports | One Ethernet | one telco | one RS-232 port | one USB 2.0 Host port | one USB Client port | |
| Security | PCI PTS 3.X approved | |
| Power | 8V DC, 2.25A or optional 9V DC, 4A | |
| Environmental | 0o to 50o C (32o to 122o F) operating temperature | |
| Physical | 203mm L x 78mm W x 87mm H; 500g weight | |