PayFlow Link
Internet Transaction processing for Web Stores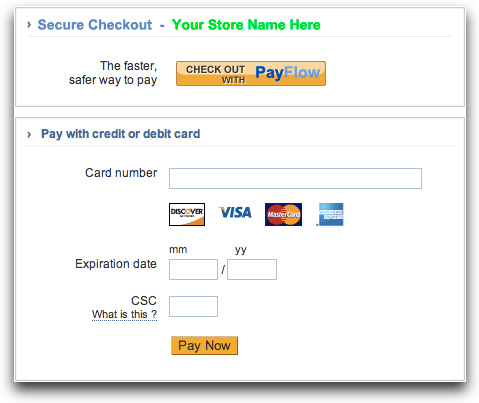 Fast and Easy way to add credit card Processing to Web Site.
With PayFlow Link, your customers are linked to an Order form on a secure Web server, where transactions are processed securely in real time. No need to maintain your own secure server. Easily customize the look and feel of your secure order forms and the system automatically emails your customers order confirmations. Bruit in security features reduces fraud and a complete suite of reporting capabilities help you manage your online sales. Supports acceptance of Mastercard®, Visa® American Express® and Discover®.
Easy Implementation
With cut and paste integration, you can be up and running with a completely automated payment solution for your web site in a matter of hours. It is designed for merchants processing less than 500 transactions per month, and it includes a virtual terminal for entering manual transactions for phone, fax, email and in person transactions. The Virtual terminal also provides you with the ability to print reports, view transactions, and convert authorizations into sales.
Built-in Security and Fraud protection
All transactions are processed on a SSL secure connection, and can be limited to transactions originated only from your web site. The fraud protection tools include Address Verification (AVS) and Card Security Code (CSC) to reduce fraud and chargebacks.
E-Commerce Support
PayFlow link can easily be used for a single payment amount or single item on your web site. However, it can also support multiple items or quantities through a supported shopping cart solution that integrates with PayFlow link. Please contact us if you need assistance with the selection or integration of a shopping cart.