Check processing
Accept checks at storefront or online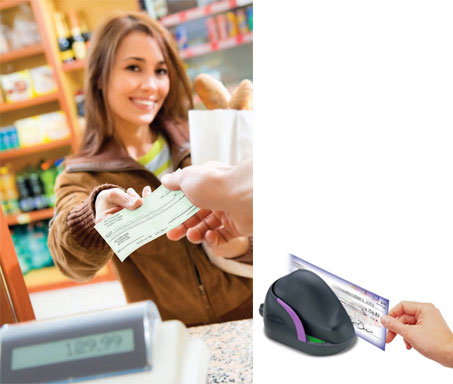 Accept checks virtually risk free
Now you can accept checks just like you accept a credit card without worrying about getting a check with non sufficient funds. With our check truncation and check guarantee service, accepting a paper check at your point of sale at your storefront location can be as simple as "swiping" a check through our check reader. The check will be converted to an electronic payment and the funds will be automatically deposited into your checking account.
Features and Benefits
Paper check is converted into an electronic transaction and electronically deposited into your bank account. Eliminates the typical risks with accepting checks. No more NSF bounced checks. No More closed account bounced checks. No more returned check fees! Web based reporting provides full transaction tracking, history and reporting.
Traditional check Guarantee
Check truncation converts a paper check to an electronic payment, and your customer signs the printed receipt. The check is then returned to the customer. Alternately, you may choose our traditional check guarantee services that allows you to retain the original check and make the normal check deposit. This traditional check guarantee service will still provide you with a check guarantee and protect you from the risks of accepting personal or business checks, and will be guaranteed if returned unpaid. Premium guarantee coverage available to ensure that even stop payment checks are guaranteed.